Amid the nationwide lockdown 3.0 currently underway, Narayan Seva Sansthan (NSS), a charitable organization that works toward inclusive welfare of differently-abled individuals, organising 'Paramarsh' campaign from today. As a part of the campaign, Senior Doctors will provide free LIVE health consultancy sessions to the differently abled. The campaign is slated to go LIVE from 10th May to 14th May, daily from 10 am onward for 1 hour, on Facebook and Youtube Live.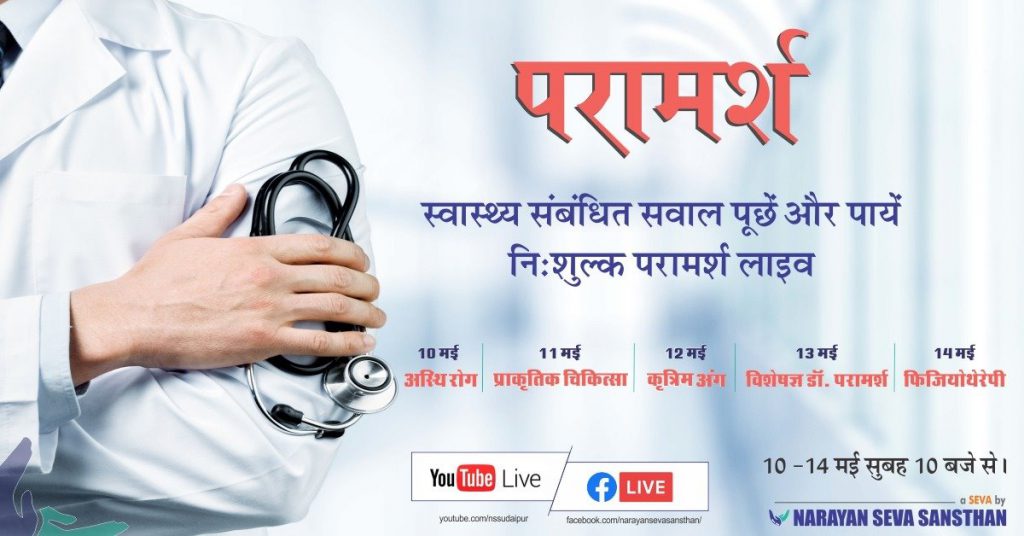 During the 5 day live sessions, free Medical consultation will be provided to the Non Covid-19 patients and differently abled individuals for common diseases. Medical experts will provide sessions on Naturopathy, Artificial limbs and Physiotherapy.
As we are currently faced with a towering global pandemic, several patients are suffering from serious diseases such as anxiety, depression, fever, cough, lifestyle induced health problems, thalassemia, Chronic periodontitis, Cholera, Typhoid and paratyphoid fevers, Osteoporosis, Bone Infection and Bone Tumors, among others. Patients therefore needs proper diagnostics, treatment and cure.
At Narayan Seva Sansthan Hospital, Dr. Manas Ranjan Sahu Said, "Differently abled individuals often goes through day to day life challenges without getting any suitable medical services to deal with their serious medical histories. Amid the lockdown, free medical consultation can adequately address their general health related queries and concerns, while ensuring that they follow the protective guidelines in fighting COVID 19, as laid out by the authorities. Moreover, such LIVE online medical and health services are time and place flexible and anybody, from anywhere can avail of such services from wherever they are.
On May 10, Orthopaedics Dr. Ankit Chauhan, on May 11th, Naturopathic Dr. Deepa Shukla, on May 12th, Dr. Manas Ranjan Sahu will anchor LIVE sessions on artificial limbs related consultations. Similarly, on May 13th Dr. Vijay Sharma on General Medicine, on May 14th, Dr. Karan Singh Deora will run free of cost consultancy on Physiotherapy. Also, People are requested to send the queries via google form link: https://bit.ly/2zYg157
Apart from this, joining the fight against COVID 19, many differently abled individuals from the NGO are manufacturing PPE kits by following all guidelines laid out by the Government. The Narayan sewing Centre has been endowed with the task of manufacturing such protective gears and kits.