New goal to reach 5 million girls globally by 2025 with signature STEM education program
Aims to educate 100,000 girls with STEM skills in India in 2021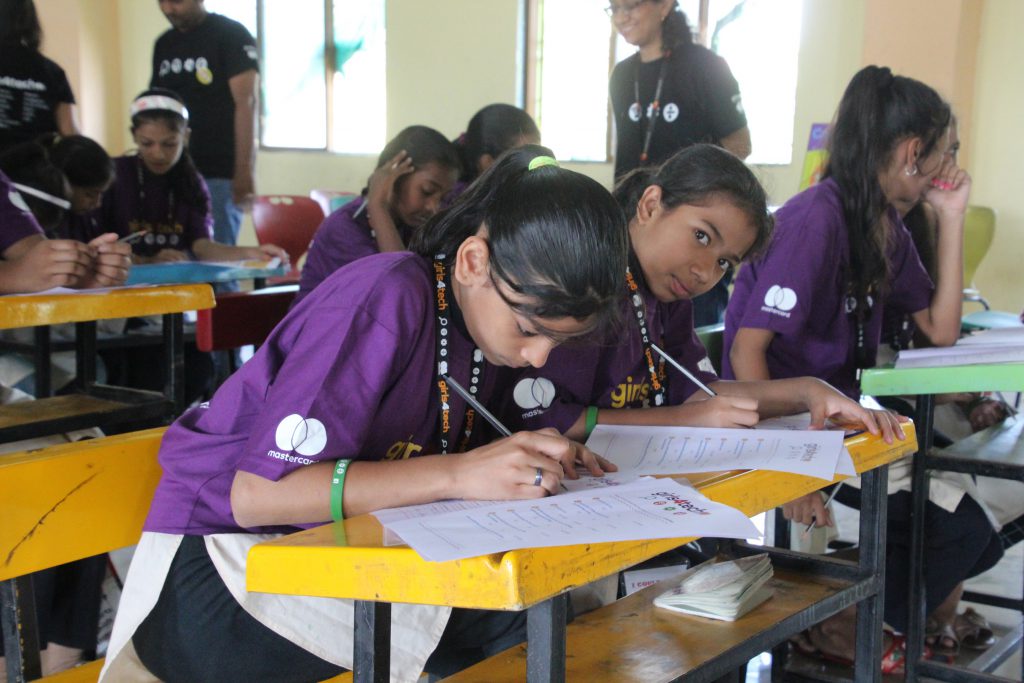 New Delhi – October 20, 2020 – Mastercard's (NYSE: MA) signature STEM education program, Girls4Tech™, has reached its initial milestone goal of educating one million girls. In the backdrop of UNICEF's International Day of the Girl Child[1], Mastercard announced a new goal for the Girls4Tech™ program to reach five million girls globally by 2025.
In India, supported by the Mastercard Impact Fund and in partnership with the American India Foundation (AIF), the program will train 1,200 teachers in 350 villages and five cities including Gurugram, Pune, Vadodara, Mumbai, and Chennai on the Girls4Tech™ curriculum by 2021. Through the partnership, the program will reach 100,000 girls ages 8-14 across 475 schools over the next 12 months.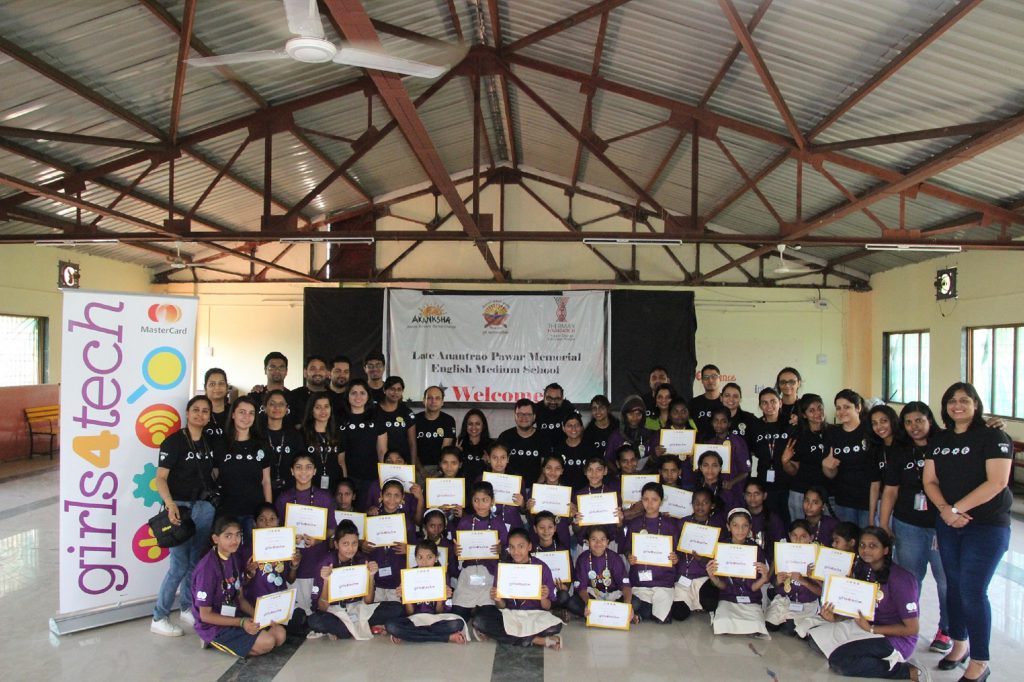 "This Girls4Tech partnership with Mastercard couldn't have come at a better time," says AIF CEO, Nishant Pandey. "With the prolonged COVID-19 lockdowns and school closures, we know that many children will not return to school. Due to the circumstances, child marriage and child labor are on the rise, so a large portion of the students that won't return are girls. More than ever, AIF is focused on bridging the digital divide and education continuity for girls. AIF is thankful to have Mastercard help us do that with their revolutionary program, the outcome of which will also help increase the number of females in technology-based careers."
In the spirit of Mastercard's ethos of "Doing Well by Doing Good", since 2019, more than 200 Mastercard employee volunteers hosted multiple Girls4Tech™ events across Pune, Vadodara and Gurugram and held India-wide virtual sessions reaching over 600 girls ages 8-12. Starting as hands-on, in-person sessions run by employee volunteers, the program has since reached more children by extending access to its STEM curriculum through online resources on Girls4Tech Connect. The curriculum, which now includes new topics such as AI and cybersecurity, is also available in Hindi.
Alison Eskesen, Vice President, Mastercard Centre for Inclusive Growth said, "Despite growing opportunities, women in India continue to be under-represented in the STEM fields. This gap is not due to skill inadequacy, but the result of a stereotypical perception about the ability and appropriate careers for girls and women. At Mastercard, we hope to move the needle for girls in STEM through Girls4Tech, a curriculum based on global science and math standards created in conjunction with our engineers and technologists. Our goal is to inspire these young minds, encourage them to take up STEM education and prepare for jobs of the future."
Mastercard aims to stimulate meaningful partnerships focused on empowering women to succeed in the digital economy. This initiative is a part of Mastercard's recent commitment of Rs 250 crores (US$33 million) to help reboot Indian SMEs to unlock their economic potential.
Julienne Loh, Executive Vice President, Enterprise Partnerships, Asia Pacific, Mastercard said, "When there's equal gender representation in the workforce, companies automatically build better products, services and create better technology. The big stumbling block to achieving this balance? There's a growing gender gap in STEM careers. Bringing diverse partners together to deliver the Girls4Tech™ program is one way that Mastercard is tackling this problem head on, all over the world, to inspire more girls to pursue STEM careers and reduce the gender gap in these fields. Mastercard believes girls need to have exposure to the variety of STEM careers that are out there and see role models in these rewarding jobs. The more they can see it, the more likely they can be it."
Launched in 2014, Girls4Tech™ is Mastercard's award-winning education program aimed at creating future problem solvers incorporating the payments technology company's deep expertise in technology and innovation. The program's aim is to enable kids to discover a range of STEM careers, such as fraud detective, data scientist and software engineer.
By the end of March 2020, UNESCO estimated that more than 89 percent of the world's student population was out of school or university due to the COVID-19 pandemic and related school closures, including nearly 743 million girls[2]. To support parents, caregivers, teachers and children that had to suddenly adjust to learning from home, Mastercard extended free access to its Girls4Tech™ curriculum, through a suite of online, creative educational resources, designed to engage and inspire kids ages 8-12.
Through the website Girls4Tech Connect, teachers and parents can download lessons to help students learn about STEM topics including encryption, fraud detection, data analysis and digital convergence, from the comfort of their homes or anywhere around the world. Lessons are currently available in English, Chinese, Hindi, Malay, Arabic, Spanish, Portuguese, French and Polish.