Carries out the country's first minimally invasive interventional radiology guided orthopaedic surgery of a bone tumourin the CT suite
Innovation backed minimally invasive techniques to be the future of treatment with care, control and precision
MGM Healthcare, a quaternary care hospital in the heart of the city, has successfully carried out India's first minimally invasive interventional radiology guided orthopaedic surgery of a bone tumour in the CT suite, an approach that can excise bone and soft tissue tumours with the highest levels of accuracy. By bringing in this futuristic approach to India, MGM Healthcare hopes to take holistic and minimally invasive medicine in the country to the next level.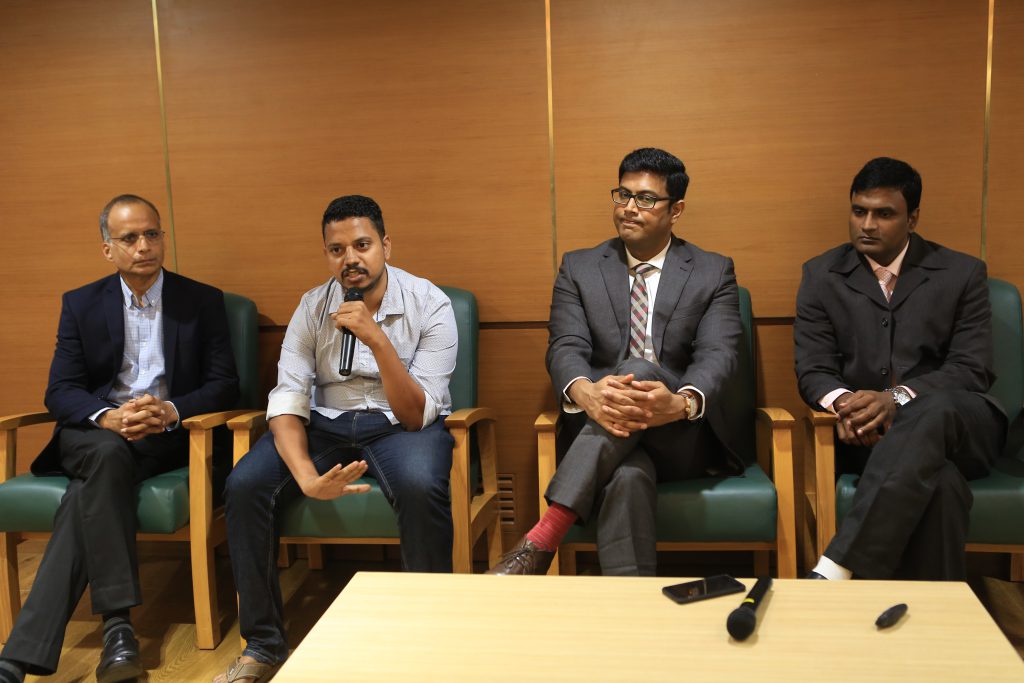 The procedure was performed on 30-year-old Mr Sridhar from Chennai on 25th September.
Dr Prashanth Rajagopalan, Director, MGM Healthcare said, "At MGM Healthcare, we are all about amalgamation of specialties and present a true multi-disciplinary approach to health. We fused two unique specialties with the highest level of skill and devised a cure for our patient."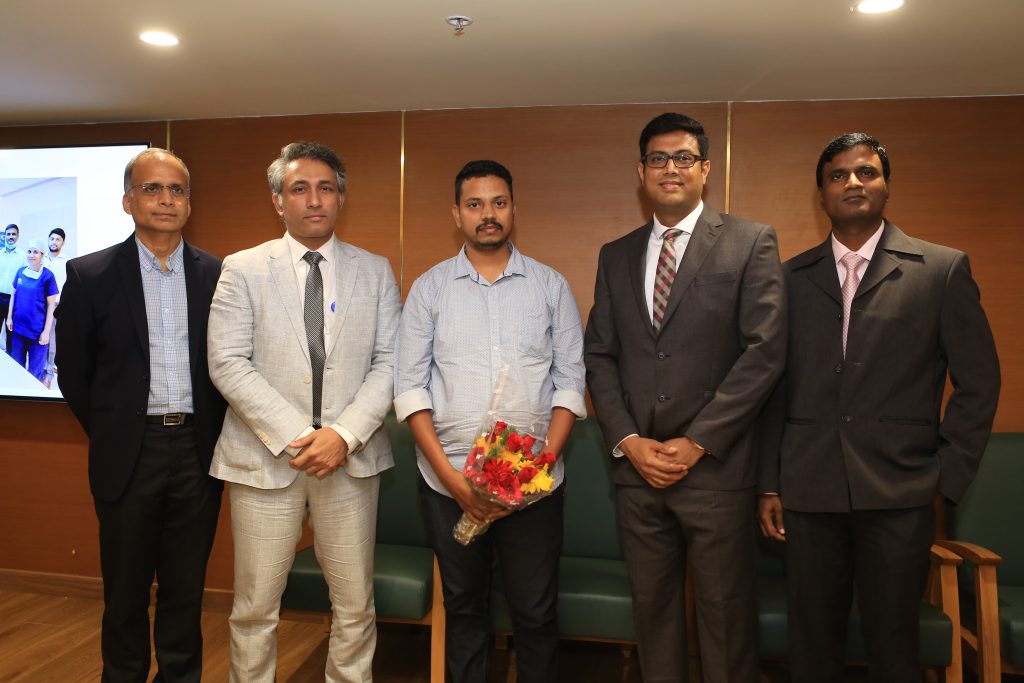 Around a year ago, Mr Sridharwas exercising in the gym when he started experiencing excruciating pain in the right elbow. He met a general practitioner who performed an X-ray, which showed no lesions. He was given pain killers, which arrested the pain for a while, but it soon resurfaced. He was diagnosed with tennis elbow and was suggested physiotherapy. But the pain continued and developed into a severe 'night pain' that didn't allow him a good night's sleep. After several months of enduring unbearable pain, he was advised by a friend to visit MGM Healthcare.
A thorough clinical examination, along with an array of high-end diagnostics which included a CT scan and state-of-the-art 3 Tesla MRI scan, were conducted. The high-resolution scans showed a suspicious lesion which was diagnosed as an osteoid osteoma – a bone tumour in the olecranon or elbow bone. Furthermore, this tumour was located in the difficult to treat juxta-articular location (within the joint capsule). The location of the tumour was the cause of excruciating pain.
Since the location was challenging, a unique combined treatment plan was put together by the interventional radiologists and the orthopaedics team, discussed with Mr Sridhar, who then gave his consent.
Explaining the procedure, Dr AB Govindaraj, Clinical Head & Senior Consultant, Department of Orthopaedics, MGM Healthcare, said, "Generally the treatment of osteoid osteoma is an arthroscopic or open surgery done in an operating theatre and requires the removal of a significant amount of bone. The patient was a young patient and this could have damaged the joint beyond repair. We referred the patient to our interventional radiology colleagues for an image guided ablation procedure."
Dr Navin Gnanasekaran, Associate Director, Medical Services and Senior Consultant & Dr Arunkumar Neelakandan, Consultant, Department of Interventional Radiology, said"Presently, a minimally invasive CT-guided radiofrequency ablation with or without chemical ablation forms the gold standard for osteoid osteoma treatment. In this patient, due to the unusual location of the tumour, the above procedures could have resulted in unequal burn or incomplete treatment of the lesion. Also, the heat could have damaged the joint cartilage as the tumour was very close to it. We spoke to our orthopaedic colleagues and decided to have a multi-disciplinary bone surgery under interventional radiology guidance in our CT suite. CT-guided precision drilling and curettage (scooping out of the tumour tissue) was performed."
The tumour was first located by CT scan. With the help of 3D reconstruction and laser guidance, the orthopaedic-interventional radiology joint team were able to plan the point of entry and accurate trajectory to the exact centre of the tumor. A small, 5 mm skin incision was made and precision drilling and curettage completed. As the recurrence rate by drilling and curettage is slightly higher than RF ablation, clear removal of the tumour was confirmed by both imaging and histopathology. The skin incision was closed with staples.
"It was a daycare procedure, so Mr. Sridharwas discharged within 24 hours. Post the surgery, he was off pain killers the very next day. Immediately after the procedure and over the past 20 days, he has got complete relief from the excruciating pain and could finally get a good night's sleep after almost a year," added Dr Govindaraj.
Says Mr Sridhar, the first patient to be successfully treated in India with interventional radiology guided orthopaedic surgery of a bone tumour in the CT suite, "I suffered from debilitating pain for almost a year. So, when Dr. Govindaraj suggested the minimally invasive procedure inside a CT scanner, I immediately gave my consent. This new technology is fast and effective for sure. I started feeling better right after the procedure and have recuperated very fast. Like me, I hope more patients will benefit from this revolutionary technology in the days to come."
About MGM Healthcare
MGM Healthcare, a quaternary care hospital in the heart of the city, has 400 beds, 100 ICU beds, 250+ doctors, 12 Centres of Excellence, 30+ departments, 12 operation theatres and 24×7 emergency care. MGM Healthcare offers many technological advancements which include cutting-edge developments such as a 3 Tesla MRI scanner, biplane cath lab, an advanced mammogram machine, a wireless fetal monitoring system, an IoT-enabled ICU charting system and a neuronavigation system. The combined expertise of an experienced team of surgeons, physicians, technicians, nurses, paramedical, administrative and maintenance staff – led by Dr. Prashanth Rajagopalan, Director and Dr. Rahul Menon, CEO – ensures highly personalized care of the finest quality.