The grand convocation event was graced by presence of Mr. Kailash Chandra Tiwari, a visionary researcher who has worked for over 40 years internationally in almost 15 countries towards INT. transport systems, HSE and Road safety, traffic management, EV specialist.
A total of 628 students were awarded with their coveted degrees at this convocation
Students will join a JJT University Global Alumni Pool of nearly 5000 students spread across country.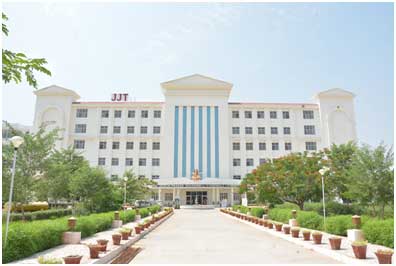 December 20th, 2020; Jaipur: JJT University, Jhunjhunu held it's Ninth Annual Convocation for the Class of 2019-20.  A total of 628 students were awarded with their coveted degrees at this convocation. The ceremony was graced by the presence of Chief Guest, Mr. Kailash Chandra Tiwari.  Delivering the convocation address, he lauded efforts of University towards the vision of making JJT University Jhunjhunu one of the biggest and most vibrant rural education hub of Rajasthan.  He also commended the institute for creating a niche for itself. He also shared his views and vision for further development of Rajasthan as a state.
Addressing students, Dr. Vinod Tibrewala, Chairperson, JJT University said, "My advice to all graduated students is to set a long-term visionary goals and work hard to achieve them. You as students of this prestigious university have the responsibility to transform the society by using splendid knowledge that you have acquired from the portals of this university campus. I urge you all to deliver great outcomes for our beloved nation."
Dr. (Brig.) Surjit Singh Pabla, Pro-Chairperson, JJT Universityshared lessons from his rich experience of serving Indian Army. Furthermore, he said, "The institute is working hard towards providing students experiential learning. The world is witnessing challenges and where there are challenges, there always are opportunities. You all should learn about newer technologies and make best use of resources at University. I congratulate all the students and wish everyone a great future ahead."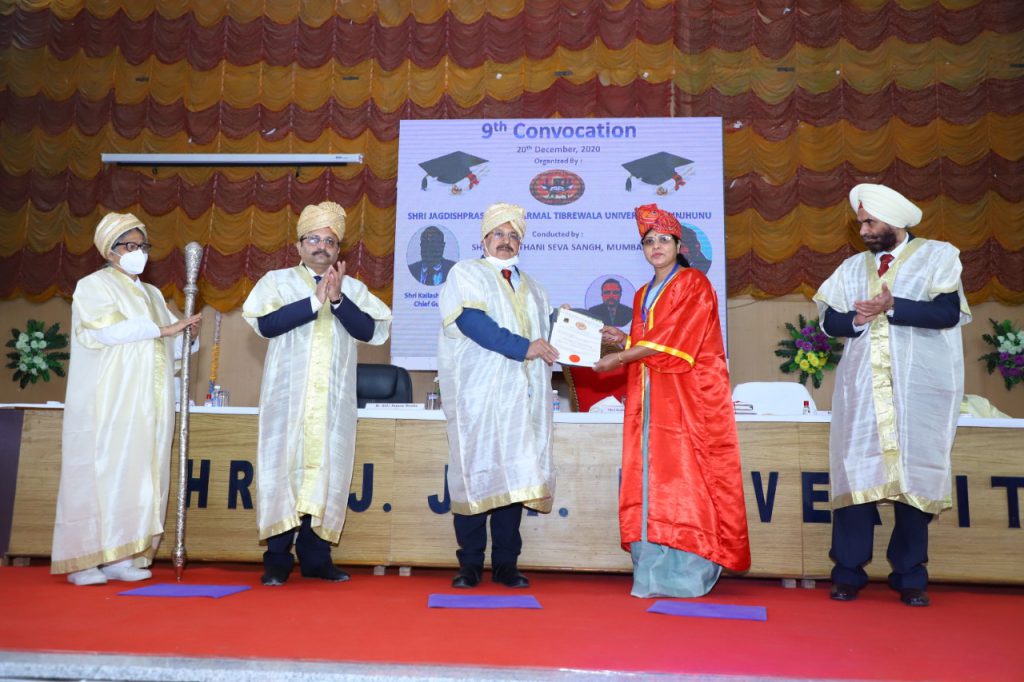 As a part of the convocation ceremony, Director Mr. Balakishan Tibdewala, President Dr. Mantha, Pro-President Dr. Jawahar Jangir, Registrar Dr. Madhu Gupta, Dean Dr. Anju Singh while welcoming the Chief Guest presented bouquet, shawl, Kamdhenu's facsimile and a book written by Chairperson Dr. Vinod Tibrewala on "How to make New India." Director Mr. BalakishanTibdewala Ji wished for the bright future of the students on this occasion.Pro-President Dr. (Commodore) Jawahar Jangir presented vote of thanks.The stage was moderated excellently by Arun Pandey.
About JJT University:
With 15 institutes and 87 departments, JJTU is universally recognized for its impeccable credentials of being a top-ranking university among private universities all over the state. With an eventful history of 11 years, the JJT University (Founded 2009), has emerged as the most vibrant Rural Education Hub in Rajasthan.
The university has highly qualified and experienced faculty, educated from premier institutions of India. The university has been awarded with Excellent University for Ph.D. Research Program and CCI Technology Education Excellent Award by Communication Multimedia and Infrastructure (CMAI) Association of India. The university is research-oriented and having a focus on innovations and novel research. The university has the memberships of various trade associations like ISO, FICCI, COSIA, AIU and CSI India, etc. For the empowerment of women and advancement of girl education, the university provides a 75% tuition fee concession for all girl students. The university has won UNESCO special service prize for its works and contribution in the field of education in August 2010 and several other industry-level certifications.