B-School to host over 450 students virtually
Editor's Synopsis:
. IIM Udaipur's Annual Management Fest Solaris' 20-21 Flags Off, begins with (M.O.M) Marketing Workshop.
. Workshop to witness participation of over 450 students across B-Schools.
. The workshop is a pre-event of Solaris' 20-21, the annual management fest of IIMU.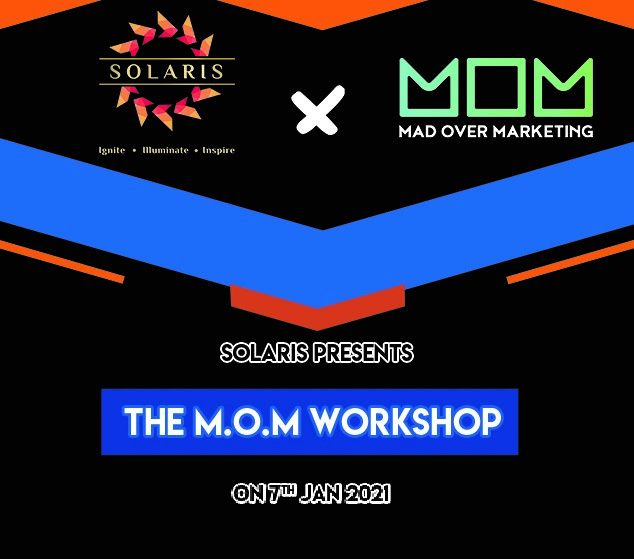 January 07th, 2021, Udaipur:The Annual Management Fest of Indian Institute of Management Udaipur, Solaris' 20-21 is to be held in partnership with Secure Meters and association with FiveS Digital on the 9thand 10thof January 2021. The second pre-event of the fest, Marketing workshop by Mad Over Marketing (M.O.M),will be organized on January 7th, 2021, 6:30pm onwards. On this occasion, IIMU will hostover 450 students from IIM Udaipur, IIM Trichy, DoMS IIT Delhi, Symbiosis, and other top B-schools.
The event will be held virtually and will witness the diverse participation of the students. The marketing workshop aims to engage the students by providing them with an enlivening environment and bringing out the marketers in them. M.O.M is an Indian marketing media company, which creates and curates content comprising global advertising, the latest campaigns and brand-related news.
On this development, Prof. Janat Shah, Director, IIM Udaipur said, "The world is fast adapting to the chronic effect of Covid-19 by transitioning to function virtually. Marketing as a discipline and a career prospect has promising opportunities for marketers of today. I congratulate the organizers, collaborating industry experts and wish the participants an insightful session."
On the 9th and 10thof January 2021, IIM Udaipur will be hosting seven summits with over 20 dignitaries from different fields as a part of their annual management fest Solaris' 20-21. The fest kicked off this edition with 20+ competitions that started in November 2020, with over 50 campus ambassadors across B-schools, more than 9000 registrations, and prizes worth 4.5lakh.
Solaris, the annual management fest of IIM Udaipur, began 6 years ago, to help the students of IIMU meet and interact with the leaders and corporate leaders belonging to various companies and fields. Indian Institute of Management, Udaipur has always been committed to its students' holistic growth and grooming future leaders.