Pace of Digital Transformation and Knowledge Sharing- the Key to India Indonesia Connect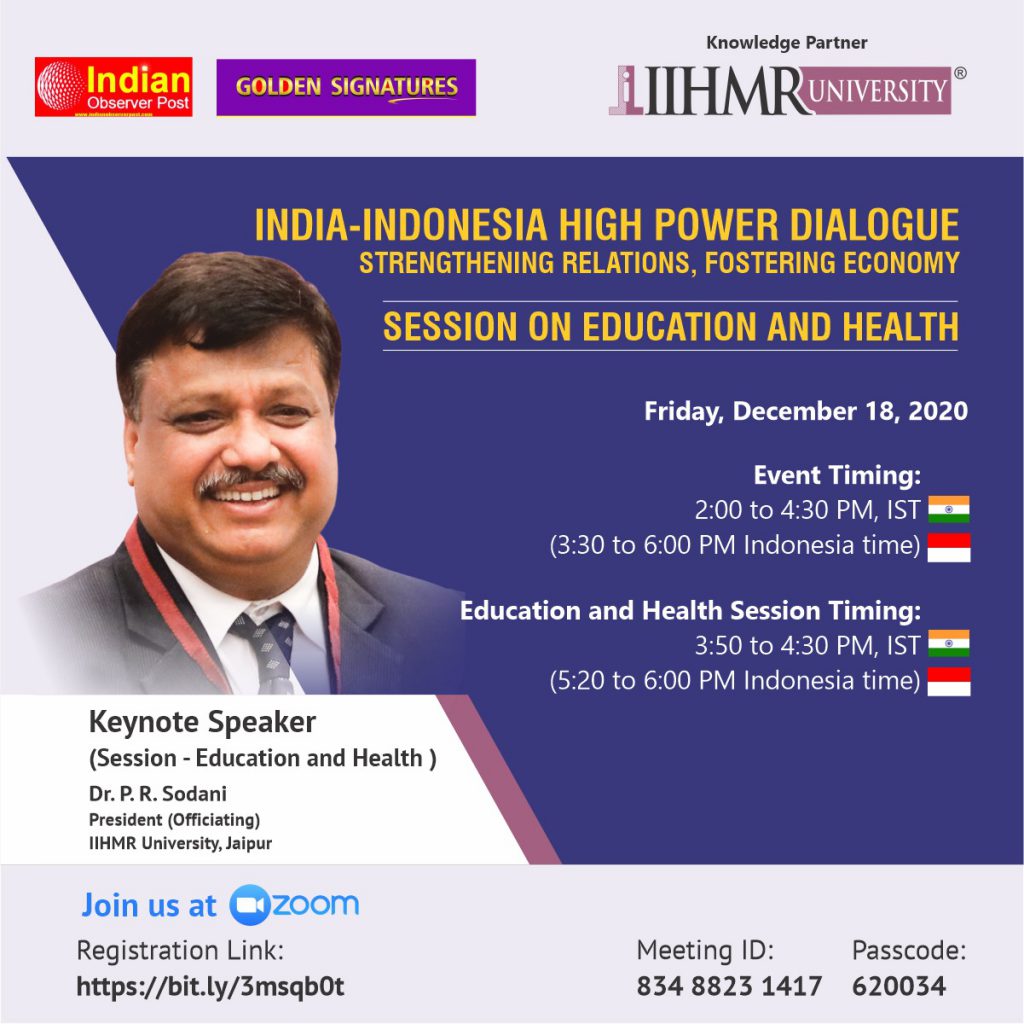 Post COVID-19 there has been a turbulence across the globe which has brought the global countries together through a digital connect. Today through a High Power Dialogue that was held between India and Indonesia over a digital connect with key dignitaries such as Dr. PR Sodani, President (Officiating), IIHMR University, Mrs. Neeta Verma, Director General NIC, Government of India, Ambassador, Anup K Mudgal, a member of Indian Foreign Services (IFS), Shri Shyam Parande, Sewa International Bharat Secretary in India and Global Coordinator, Dr. Shiv Tripathi, Dean Training, IIHMR University, Dr. Alok Drolia, Dr. Ishwar Ramlutchman were the speakers in the panel. The focus of this dialogue was to strengthen the bilateral relationships by focusing on opportunities and challenges between India and Indonesia. The whole dialogue revolved around the social, education & skilling, technological, cultural, health, trade and commerce and financial connect between India and Indonesia bridging their relationship. IIHMR University was the knowledge partner for this virtual high power dialogue between India and Indonesia.
Dr. PR Sodani, President (Officiating), IIHMR University, Jaipur and keynote speaker during the dialogue said, "India and Indonesia have close cultural and commercial contacts for over two millennia's. India must closely collaborate with Indonesia on Skill Development, Networking and Education and explore the potential of Indonesia through knowledge sharing by promoting and co-operating with the country. Both these countries have the areas of common interest in health as well as the education sector. These areas may focus on areas such as research and development, active pharmaceutical ingredients, IT based medical health and wellness solutions and also Human Resource Development for health sector."
As the discussion proceeded the key focus was on the Health and the Education sector where the speaker highlighted great possibilities of collaboration and co-operation amongst India and Indonesia. Dr. Sodani pointed out that both the countries- India and Indonesia, have great strengths which can be leveraged to work for the society at a better level. Collaborations in Education and Research would help Researchers in both the countries, the academic communities of both the countries, students, faculty members, health scientists who can work together and contribute at a big level in achieving the Sustainable Development Goal's which is one of the prime objectives of these countries.
Dr. PR Sodani even stated, "Our National Governments are working towards achieving the SDGs and these collaborations, co-operations as well as the partnerships amongst the organizations would lead to better SGD milestones. He pointed out that India as a country has tremendous potential in the technology and digital space, the knowledge of which can be shared for the betterment of Indonesian economy. He stated that the technology advancements and digital space along with innovations can be used to offer quality healthcare services in both countries. We have good scientists, engineers and good medical and healthcare teams, this calls for a lot of alignment amongst the public and public sector is required." Dr. PR Sodani concluded, "IIHMR University will be forefront in implementing the policies, programs, ideas, common goals of Indonesia as well as Indian partnerships and collaborations."
He elaborated this thought by saying that, this alignment is required amongst the healthcare workers and the community for which these healthcare workers are working. This alignment is also required amongst the technical persons who have great expertise in the digital technology as they have to understand the community requirement, they have to understand the healthcare service environment. There are a lot of opportunities between India and Indonesia and this pandemic has brought us together to work and live together.
IIHMR University has been preparing the students of India and other countries with a mission to provide adequate inputs through the management tools and techniques for betterment of health systems thereby improving the effectiveness and efficiency of health systems. The IIHMR University is a leader and has been a lambert in establishing the South East Asia Public Health Educations Institutions Network. The IIHMR University has been producing talent that has been contributing effectively in health system, with skills in the management education towards hospital management services, healthcare programs, pharmaceutical industry and many more.
The focus of the webinar was connecting people, facilitating collaborations, new opportunities, new markets, power of synergy, health wellness, tourism and culture, multi-stakeholder brainstorming, economy, education, technology, innovation, Corporate Social Responsibility etc.