Recognising the complexities that come with understanding the coronavirus disease (COVID-19) for the younger generation, global pump manufacturer Grundfos has partnered with Danish publisher Milton Around The World to develop an illustrated children's book to help shed light on what the pandemic is all about, and how we can play our part in fighting it.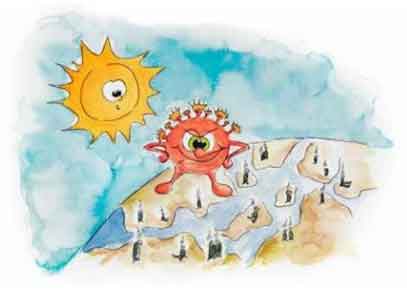 Developed with children aged 5-8 years in mind, the story titled 'Milton and the Invisible Coronavirus' follows the rabbit Milton, and his two friends, Amanda the butterfly and Conrad the hedgehog, as they navigate the various challenges in their daily lives as a result of the pandemic – from social distancing to ensuring personal hygiene. This book aims to reduce the fear and uncertainty that the children may be experiencing about the COVID-19 pandemic that is difficult to understand.
As a sponsor of the publication, Grundfos is currently looking into initiatives to further disseminate it across its Asia Pacific markets, with first steps including sharing the digital version with local schools and educational non-governmental organisations (NGOs).
In Denmark, the book is already being used in primary schools to alleviate concerns and explain the COVID-19 situation to these young children, offering a way for teachers and students to discuss some of the questions the pandemic has raised.
Mads Nipper, Group President and CEO, Grundfos, said, "Everyone has a part to play in fighting the COVID-19 pandemic, including the younger generation. We recognise that they are innately curious individuals and we want to help empower them with the knowledge to navigate this new world. We have chosen to support the work of Milton Around The World as we feel that they approached a difficult subject in a thoughtful, sensitive way that still connects with kids and their inquisitive minds. We hope our support will help put 'Milton and the Invisible Coronavirus' into the hands of children all over the Asia Pacific region."
Publisher Milton Around The World said, "We used Milton's world as a starting point to create security around the situation that is currently paralysing the entire world population. We are therefore extremely proud and grateful that Grundfos, with Mads Nipper at the forefront, has already chosen to support the initiative."
They added that the purpose of the book and its associated teaching material is in an educational and non-intimidating way to explain to children what COVID-19 is, and why we should be careful about hygiene and contact with others.
"This is exactly where Milton can help. By creating a single story that targets 5 to 8-year-olds, we will explain in a fact-based and safe way what COVID-19 is, how and why we should look out for each other. Of course, with rabbit Milton taking centre stage as a fun-loving character."
'Milton and the Invisible Coronavirus' is available free for digital download on Grundfos' website.
About Grundfos India
Grundfos Pumps India Pvt. Ltd. (Grundfos India) a wholly owned subsidiary of Grundfos Holdings was established on March 13, 1998. Grundfos India is responsible for sales of Grundfos products in India, Bangladesh, Bhutan, Nepal and Maldives. Currently, Grundfos India has more than 400 employees and works with 200 distributors and dealers with 26 offices across India. Grundfos India provides energy efficient pumps and smart pumping solutions for various applications – heating and hot water service systems, cooling and air-conditioning systems, industrial applications, pressure boosting and liquid transfer, groundwater supply, domestic water supply, sewage and wastewater, dosing, chlorination systems, disinfection systems and pumps running on renewable energy.