Under #DaanUtsav Campaign, Narayan Seva Sansthan is organizing free monthly ration distribution camp for more than 150 families in the cities Lucknow, Shamli, Vrindavan. Since July, around 600 families have benefited as the NGO has distributed free ration kits in various cities like Shamli, Lucknow, Vrindavan, and Firozabad.
While aiming 50 thousand families for food distribution, NGO has distributed food to over 15,805 families get free monthly ration kits from Udaipur, Delhi, Bhilwara, Alwar, Pali, Noida, Bikaner, Lucknow and Sirsa in various cities. The kits has15 kg flour, 5 kg rice, 4 kg pulses, 2 kg oil, 2 kg sugar, 1 kg salt and necessary spices.
Since the pandemic hit, NGO's in India are extending their services from villages to the cities and offering Food, Mask, Sanitizer, and PPE kits. While the pandemic crisis, from supporting needy, farmers, Migrants, underprivileged children to celebrate the small joys of charity and feeding a hungry family.
Prashant Agarwal, President, Narayan Seva Sansthan said, "We are also conducting health screening and clothing distribution camps online and offline. Amidst the lockdown, NSS regularly undertook food distribution operations in Rajasthan, Uttar Pradesh, Haryana, Uttarakhand, and Maharashtra, were 1, 42,880 food packs, 71005 masks, 800 PP kits. Under the Narayan Garib Parivar Yojana, Multiple camps are being organized in distributed food, sanitizers, and masks to 1000 families in Assam flood-affected area."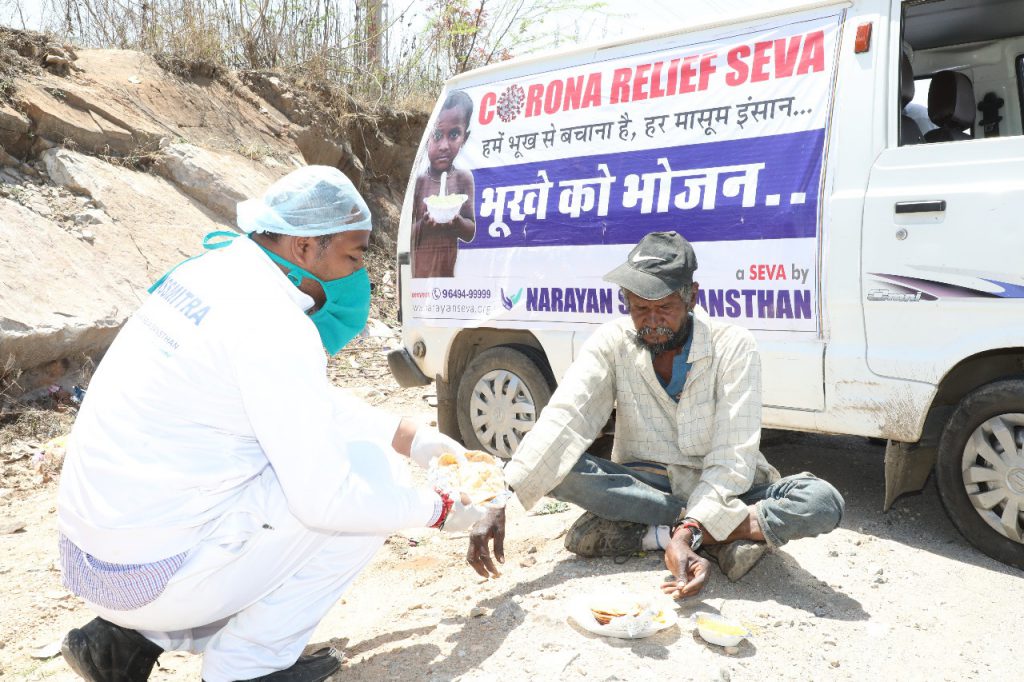 Monthly food distribution campaign to poor-labor families, needy and differently-abled with free equipment distribution camp, has attempted to share happiness in different ways. 34-year-old Seva Yatra has 418750 successful free operations of disabilities. 263000 tricycles, 270000 wheelchairs, 290000 Crutches, 351000 calipers distributed among the needy.