~Aster ILC's affordable liver transplant initiative raises Rs. 12.5 lakhs for the child's treatment during the COVID pandemic~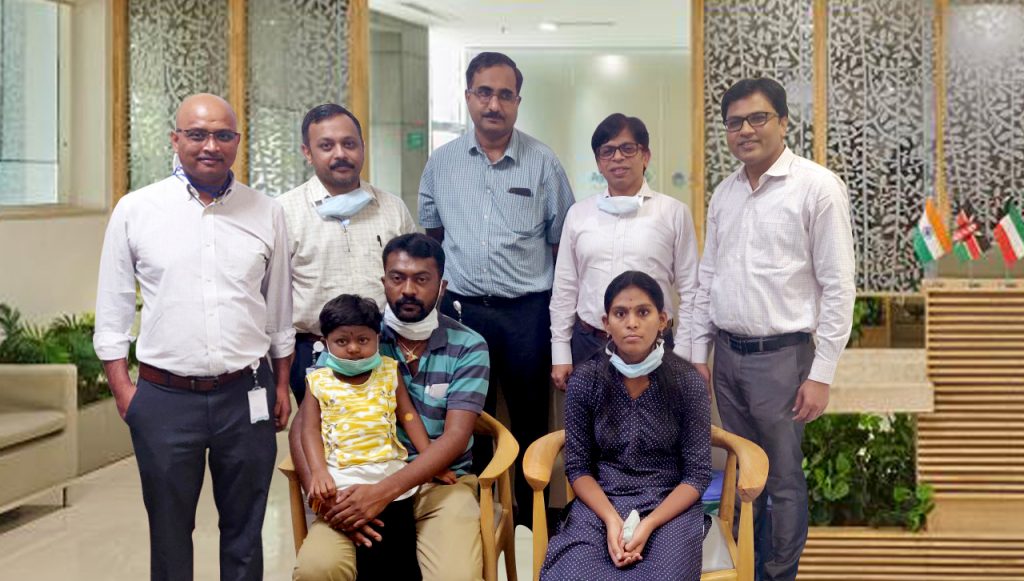 Punyashree a five- year-old child, was undergoing a liver transplant surgery at Aster CMI Hospital recently, was revived on the operating table, 40 minutes after her heart stopped beating. Punyashree was suffering from jaundice from the age of seven months due to a rare disorder called PFIC – progressive familial intra-hepatic cholestasis. This disease had resulted in irreversible liver damage and growth failure necessitating a liver transplant.
The patient's heart stopped beating and her blood pressure dropped to zero. The doctors wasted no time, and for the next 40 minutes, kept giving her cardiac massage and instituted other resuscitation and life support measures, to keep pumping blood and maintaining circulation to Punyashree's vital organs. The patient's heartbeat was fluctuating in between, and it took nearly 40 minutes for her to become stable.
In a surgery that lasted for 14 hours, a team of doctors consisting of Dr. Rajiv Lochan J, Sr. Consultant, HPB & Liver Transplant Surgery, Dr. Sonal Asthana, Sr. Consultant, HPB & Liver Transplant Surgery, Dr. Mallikarjun Sakpal, Consultant, Hepatology & Liver Transplantation, Dr. Arun V, Lead Consultant – Critical Care & Anaesthesiology and Dr. Chetan Ginigeri, Consultant – Paediatrics & Paediatric Intensive Care, transplanted the mother's liver into her child.
The young child was presented to the doctors with a history of cyclical jaundice, severe itching, and growth failure. She had been diagnosed with PFIC (Progressive familial intra-hepatic cholestasis and had developed jaundice when she was seven months old. Extensive investigation at various places including a specialist children's hospital revealed that the main symptom at that time was jaundice and itching. Even after undergoing an operation to relieve the itching, the child continued to have cyclical episodes of jaundice and growth failure set in. The case was then referred to Aster CMI Hospital where further investigations suggested that the child had developed decompensated liver disease and required an urgent liver transplant.
Explaining the cause of the cardiac arrest, Dr. Rajiv Lochan J, Sr. Consultant, HPB & Liver Transplant Surgery, Aster CMI Hospital said, "The arrest occurred when the donated liver from the mother was being reconnected to Punyashree's blood vessels. After 40 minutes of external cardiac massage, we were able to recommence the baby's heart and continue her surgery to successfully complete the transplant operation. The cause of Punyashree's heart stoppage was probably a metabolic event caused due to the derangement of electrolytes and acid levels in her body.
Dr. Rajiv Lochan J added, "Mortality in India due to liver failure is twice that of the developed world and a majority of this is due to liver disease in children. Punyashree's surgery was performed under the affordable liver transplant initiative of the hospital, which helped the family in raising funds through a CSR grant, crowd funding and donation from a foreign national. The result of all this collective effort has been the successful recovery of the child who is happily back with her family in Tumkur. It is indeed a moment of joy for us to see this "miracle child" recover fully during such difficult times."
"We did not have a second to waste at that time, because if we stopped her heart monitor was a straight line. This phenomenon is very uncommon in case of a transplant. There is only a risk of 1 % or 2% that one will have a cardiac arrest during the transplant. The rarity of the case fell in this percentage hence this led us to do a CPR, we had given her immediate medications through adrenaline and medicines to bring her heart back to normal. It took almost about 30 to 40 minutes to get her back" said Dr. Arun V, Lead Consultant – Critical Care & Anaesthesiology, Aster CMI.
Speaking on the recovery of the patient, Dr. Chetan Ginigeri, Consultant – Paediatrics & Paediatric Intensive Care, Aster CMI Hospital, said: "Post-operative period with a weak heart, flooded lungs and a new liver is always difficult to manage as we have to salvage every organ interacting with one another. However, with judicious mechanical ventilation, medicines to protect and pump the heart, very tight fluid balance, and intensive monitoring, Punyashree woke up to a new life and walked home after 3 and a half weeks in hospital."
Expressing his views on the success of the Affordable Liver Transplant, Dr. Sonal Asthana, Sr. Consultant, HPB & Liver Transplant Surgery, Aster CMI said: "It is indeed heartening to see Punyashree recover fully after her very eventful transplant The Affordable transplant initiative allowed us to offer lifesaving liver transplantation to children whose families have limited economic means, we hope to tie-up with the state governments in the near future to provide this facility to a larger number of children."
Punyashree's mother, Ramya P, who donated the left side of her liver to her daughter expressed her gratitude to the doctors and their expertise, said: "We are extremely thankful to the hospital and the expert doctors who provided the lifesaving transplant to our child. It is an unexplainable moment for us to see our child living a normal life."