A one-day state level seminar was held at the School of Law & Judicial Science, Apex Professional University (APU), Pasighat recently. The seminar was organized to understand the various processes of legal system of our government in execution and implementation of systematic measures for administration of justice.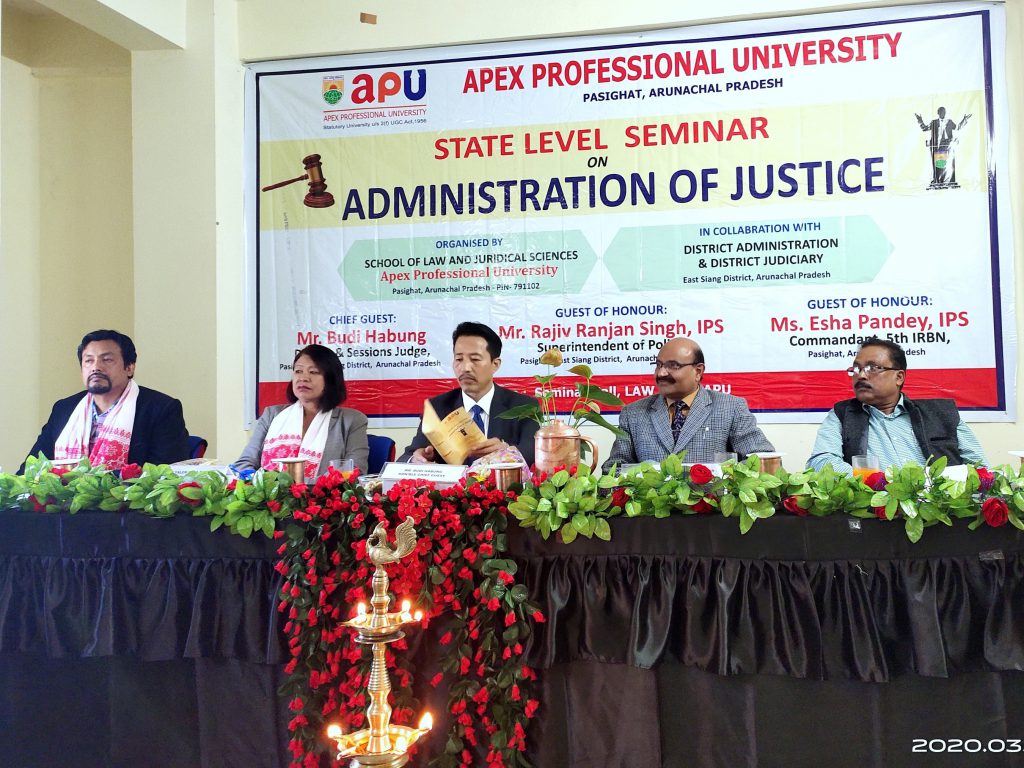 The Chief Guest, Mr. Budi Habung, District and Sessions Judge, District East Siang, Arunachal Pradesh while addressing the gathering on the occasion highlighted the past and present legal systems of justice prevalent in the state. He revealed that Arunachal Pradesh has judicial courts in 18 districts, and the address was educative to all participants.
Ms. Yalem Taga Burang, a social activist and former teachress and Advocate Sanjay Taye were the resource personnel for the Seminar.
Prof. (Maj.) Ashok Kumar, Vice-chancellor in his address while revealing the importance of the seminar said that the fair administration of justice is important for the rule of law in that it ensures state practice and policies protect against the infringement of the fundamental human rights to life, liberty, personal security and physical integrity of the person. He said that the top five best countries for judicial independence and rule of law are Denmark, Norway, Finland, Sweden and the Netherlands. However, the lowest ranking countries with the worst judicial systems are Venezuela, Cambodia, Afghanistan, Egypt and Cameroon.
The subthemes for deliberations were Role of Judiciary, Police and NGOs in administration of justice.
Ms. Karishma Handique and Mr. Amarjeet Kumar Thakur, Lecturers, welcomed all and proposed vote of thanks respectively.
Dr. Baharul Islam, Chairperson of Seminar and Ms. Nargis Choudhury, Organizing Secretary, made all set for the seminar.
The findings of the seminar will be useful to policy planners, research scholars and students in understanding the various processes of administration of justice.
About Apex Professional University

Apex Professional University (APU) has been established by the Government of Arunachal Pradesh as a Statutory University under the public private partnership (PPP) scheme in accordance with the provisions contained in section 2(f) of University Grants Commission Act, 1956 and empowered to award degrees in terms of section 22 of UGC Act, 1956. APEX Professional University is also recognized by the Bar Council of India (BCI), National Council for Teacher Education (NCTE), Council of Architecture (COA) and Pharmacy Council of India (PCI) for various Degree and Diploma Programs.

Apex Professional University is a member of the Association of Indian Universities (AIU), ASSOCHAM and Quality Council of India. Forbes Magazine has recognized Apex Professional University (APU) as a "Great Indian Institute" and has been acknowledged as "Best Education Brand" by Economic Times. The University has initiated the process of its accreditation by the National Assessment and Accreditation Council (NAAC).

Apex Professional University has established an Institute of Indian Knowledge (IIK) as a Centre of Excellence to research, standardize and validate ancient Indian Sciences. IIK conducts courses in Indian System of Architecture (Vastu Shastra), Indian Metaphysical System (Shad Darshana) and Indian System of Healing (Siddha, Ayurveda & Yoga) that equips the students to address the issues of the present world in a rationalized manner.